All content on Texas RV Travel blog is considered the intellectual property of Eileen F Trainor, owner of the domain, TexasRVTravel.com. This domain includes the blog.TexasRVTravel.com.
For purposes of determining fair use, please refer to http://fairuse.stanford.edu/Copyright_and_Fair_Use_Overview/chapter9/9-c.html#3, specifically:
Internet Cases

Not a fair use. Entire publications of the Church of Scientology were posted on the Internet by several individuals without Church permission. Important factors: Fair use is intended to permit the borrowing of portions of a work, not complete works. (Religious Technology Center v. Lerma, 40 U.S.P.Q. 2d 1569 (E.D. Va. 1996).)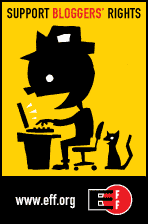 Electric Frontier Foundation has written a Legal Guide for Bloggers.
If you would like to use the content on this blog, please use contact button or comments to request permission.  Excessive use is an infringement of copyright.
© Copyright, Eileen F. Trainor, Texas RV Travel Blog and Texas RV Travel website. 2005-2012